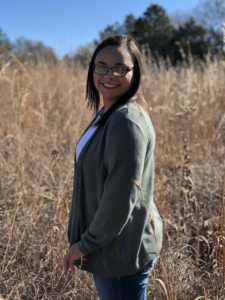 We would like to take some time to recognize our intern at the Norfolk office, Wilma Alvarado! She started with us May 28th and is doing a 400 hour internship through the summer. She chose Bright Horizons to pursue her internship because she wanted to learn more about our agency. She has been busy training with us and truly has taken on the role of an advocate!  Wilma has helped with anything from working with clients one on one, answering the crisis line, shelter assistance, and so much more!
We asked her what she enjoyed most her internship so far and she stated,"I enjoy learning new things about this field everyday. The staff is very welcoming and helpful when I need it. I enjoy being around this environment. Knowing that no one's life is perfect and sometimes it's hard for people to ask for help, but when they do, it feels really good to be able to offer that help and support that they need."
Wilma is originally from Schuyler, NE and moved to David City after graduating high school. She has two sisters Elianette Alvarado and Esmeralda Ortega. She enjoys spending time with her roommate and dog Milo. She's a fan of the Women's World Cup (soccer) and has been following that as well as watching the Huskers during football season. She has been enjoying her summer golfing and hanging out with friends.
After her internship with us is complete Wilma will be graduating with a degree from Wayne State College with a double major in Human Service Counseling and Criminal Justice. Her plans are to pursue a career as a probation officer.
Thank you Wilma for all your help so far and we hope that this is an eye opening experience that brings you the skills and knowledge you need to pursue your dreams. Best wishes and good luck!